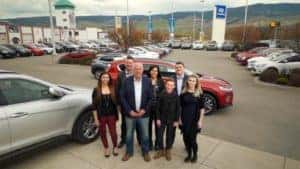 John started his journey in the automotive industry selling cars at the age of 17, working during the harvest offseason in Weyburn, SK. He found he was much better at the automotive industry than he was farming, and therefore continued down that path! He started selling cars at Barber Motors, and his small-town attitude has stayed with him.
John married his High school sweetheart Trina at the age of 19. She has become instrumental in the growth of the company over the years.
Trina works behind the scenes on major decisions and human resources but is still very active parenting their youngest son Logan born in 2009.
John had several senior management positions over the 17 years he worked in Edmonton. In 2010 he moved the family to the Okanagan with his family. Putting everything on the table with the acquisition of his first dealership Kelowna Hyundai in November of 2011!
Throughout the growth of Kot Auto Group, John has been proud to be able to put family first and build a family-owned and operated business he can be proud of.
After growing up around the car business, Brandon, Trina and John's oldest son, started selling cars right out of high school. Brandon left the family business for a few years but remained in the car business to gain experience in Finance and Sales management. Brandon came back to Kot Auto Group in 2018 and is currently the Active General Manager at Victoria Hyundai and the Director of Operations for the group.
Jordan attended University right out of High School and graduated with a business degree. He and his Wife Hali just had their first child, Haven. Hali is a stay-at-home-mom and is loving every minute of it. Jordan is currently the active General Manager at Kelowna Kia.
Janessa McGowan has had several positions at Kot Auto Group, including Marketing Coordinator, Human Resources and receptionist. She is currently the Finance Director at Kelowna Kia. Connor McGowan married Janessa in 2020. Connor started selling in January of 2016 at Kot Auto Group and is currently the General Sales Manager at Kelowna Hyundai.
On top of a passion for cars, John is an avid sports fan! Hockey is his favourite, where he has been both a coach and player. His favourite pastime is taking his longer termed staff to Haida Gwaii for the annual Kot Auto Group Fishing Trip! In John's spare time, he keeps busy with his younger son Logan and wife Trina.
Where It All Started…
John started selling cars at the age of 18 in his hometown of Weyburn Saskatchewan while taking over the family farm. Realizing he was better in sales than farming, he dove into the auto industry becoming a very high performer. Many customers still remember his "John's pick of the week" that ran in the weekly paper. Trina and John moved to the Edmonton area where John moved up the ranks over the next 17 years, including several senior management positions for 2 local Auto Groups.
In 2011 they purchased Kelowna Hyundai as their first addition to the Kot Auto Group. Today they are very proud to be a community-minded dealer group where all their adult children are involved in the business.
Brandon Kot – General Manager at Victoria Hyundai / Vice President
Jordan Kot – General Manager at Kelowna Kia
Janessa McGowan – Director of Finance at Kelowna Kia
Connor McGowan – General Sales Manager at Kelowna Hyundai
KAG DEALERSHIP TREE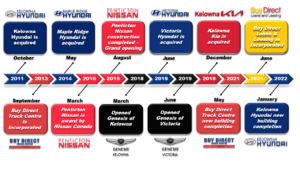 Kot Auto Group Awards & Acknowledgements
Kelowna Hyundai – Presidents Award of Merit – 2012, 2013, 2014, 2015, 2017, 2018, and 2020
Kelowna Hyundai – Winner of the Community Driver Award by NCDA 2019
Kelowna Hyundai – Finalist for Business Excellence Award 2019
Kelowna Hyundai – Nominated for the Best of Kelowna 2017,2020 & 2021
Kelowna Hyundai – Demonstrating Electric Vehicle sales in B.C award for most EV sales in the Okanagan for 2019 & 2020
Buy Direct Truck Centre – Nominated for the Best of Kelowna 2021
Maple Ridge Hyundai – Presidents Award of Merit – 2017 & 2019
Genesis Kelowna | Genesis Victoria -The only Dealer in Canada awarded with two Genesis branches
Kot Auto Group – Nominated for Community Driver Award by NCDA 2020
Kot Auto Group/John Kot – Laureate Finalist for Retail Business 2017 & Business Innovation 2020 & 2021 (Laureate Nominated 2021 Retail Business 2021)
Brent Miscisco, Sales Consultant – Maple Ridge Hyundai – Has been employed with Kot Auto Group since 2014 and has been awarded the "Top Hyundai Salesperson of the Year" award from Hyundai Canada in 2016, 2017, 2018, 2019 & 2020
Steve Allan, General Sales Manager – Penticton Nissan – Has been employed with Kot Auto Group since 2013 and has been awarded the "Top Hyundai Salesperson of the Year" award from Hyundai Canada in 2013
Ray Wong, Sales Consultant – Kelowna Hyundai has been employed with Kot Auto Group since 2009 and has been awarded the "Provincial Customer Experience Champion" from Hyundai Canada in 201