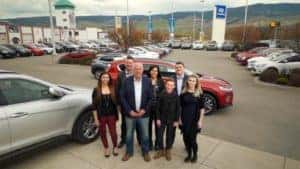 John started his journey in the Automotive industry selling cars at the age of 17. John would sell during the harvest offseason in Weyburn, SK. Since he was much better at automotive sales than farming he continued down that path! He started selling cars at Barber Motors, and that small-town attitude has stayed with him.
John had several senior management positions over the 17 years he worked in Edmonton. In 2010 he moved the family to the Okanagan. Putting everything on the table with the acquisition of his first dealership, Kelowna Hyundai in November of 2011!
2012- Acquired Buy Direct Truck Centre
2013- Acquired Maple Ridge Hyundai
2016- Purchased the future home of Kelowna Hyundai and Genesis Kelowna at 1638 Cary Road V1X 2B9
2017- Was awarded Nissan Brand Open Point
2018- March opened Penticton Nissan a new 20,000 Square Foot Image Nissan Building, being the first dealership in Canada to be built on Native land on a lease! Has maintained a great relation with the Penticton Indian Band as a result!
2018- Was awarded the Genesis Brand Distribution for the Kelowna Market
2019- June took over Victoria Hyundai
2019- Was awarded the Genesis Distribution for the Victoria Market
John is an avid sports fan! Hockey is his favorite where he was a coach and player. His favorite pastime is taking his longer termed staff to Haida Gwaii for the annual Kot Auto Group Fishing Trip!. In John's spare time he keeps busy with his younger son Logan and wife Trina.